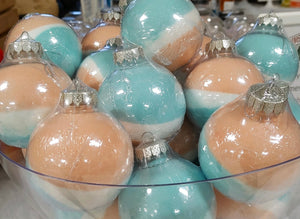 These cute ornaments are filled with fizzy bath powder. Each ornament has 2-3 baths of powder. 
Ornaments are plastic. 


Available in Lavender, Warm Vanilla Sugar, Watermelon, Grape  Other scents available by request  
Directions: Open top and shake 1/3 to 1/2 of contents into bath water.
Limit use, use adult supervision. Use gentle abrasive cleaner if color stays in tub. 


Ingredients: Sodium Bicarbonate, Citric Acid, Sodium Laurel Sulfoacetate, Goat Milk Powder, Fragrance, FDA Emerald Green, FDA Red 40.
Each ornament has 10oz / 283.5g