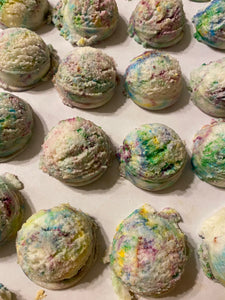 These are made with shea butter to give moisturizing luxury to your bath. Just crumble one under running bath water, or drop in and let it dissolve. 

Although we only have a handful of scents listed, these can be made in just about any scent  If you don't see a scent you like, message us and we can try to accommodate your request.
Instructions: Crumble one scoop under warm water into bath, or let dissolve in warm bath water.  


Safety Precautions: Use under adult supervision only.  Limit time sitting in bath water with any product added to water.  Do not eat.  Tub May become slippery, use caution when entering or exiting bath.  Product can leave slight discoloration on tub which can be removed with cleaning products  
Ingredients:  Baking Soda, Shea Butter, Citric Acid, Sodium Laurel Sulfoacetate, Polysorbate 80, Fragrance, Colorant (varies by scent or design, check individual label).